(Other names: Ghatotkacha) 
According to the story of Mahabharata, Ghatotkach was the son of a giantess named Hidimba and Bhima, son of Pandu.
During the time of Pandavas' exile, Hidimba saw the extremely powerful Bhima and was fascinated by him.
Bhima also liked her and wanted to marry her but Hidimba's brother Hidimb opposed it.
At this, there was a war between Hidimb and Bhima. Bhima killed Hidimb and got married to Hidimba.
They had a son named Ghatotkach. His maternal parentage made him half-Rakshas, and gave him many magical powers that made him an important fighter in the Kurukshetra war, the climax of the epic.
He got his name from his head, which was hairless and shaped like a pot (in Sanskrit, Ghatam means pot and "Utkach" means hairless ".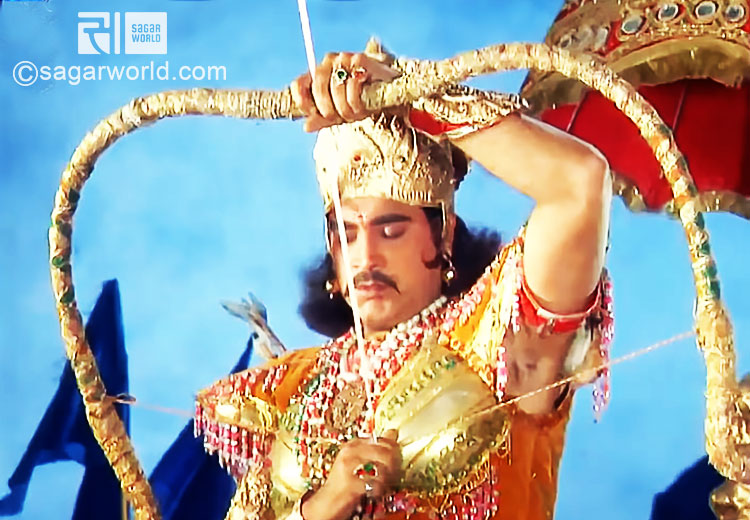 In the war of Mahabharata, Ghatotkach showed great valour and the army of Kauravas was frightened, to the extent that a warrior like Ashwathama was also scared.
Then, on Duryodhan's instigation, Karna used unfailing weapon 'Ekaghni' which he had obtained from Indra and killed Ghatotkach.
Karna wanted to use this weapon against Arjun, but there was no way left to kill Ghatotkach, so he was forced to use it, against Ghatotkach.
After using it, Karna lost the weapon that could kill Arjun because this could be used only once and so now he could not reuse it.
Thus Ghatotkach made a contribution in the war, where he saved his uncle Arjun from death by sacrificing himself.