(Other names:  Gargmuni,Garga Rishi, Garg Muni, Gargacharya)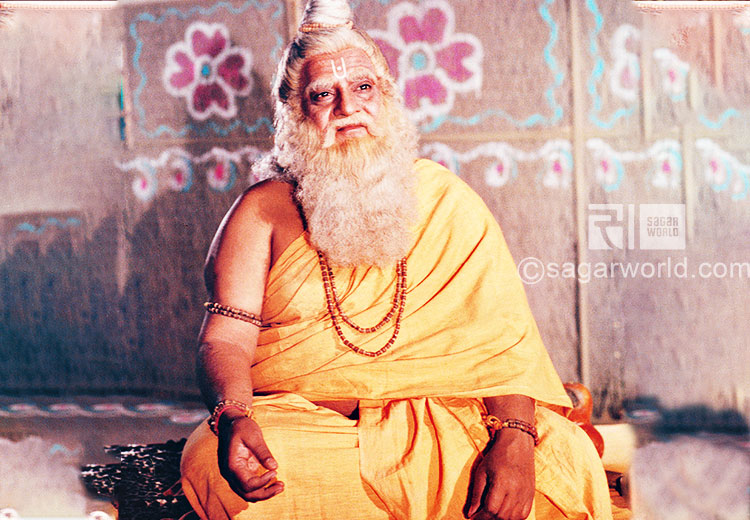 Sage Garg was the family guru of the Yadava clan. He had acquired knowledge with great austerity. Once he went to see Vasudev in prison.
Vasudev informed him that two of his sons are growing up in Gokul at Nandbaba and his home.
He told him that they are not consecrated (Jagopavit Sanskar, one of sixteen Vedic Sanskars in Hinduism), if this is not done, the parents are supposed to not have conducted their duties.
He asked Garg Rishi to go quietly to Gokul and get them consecrated and favour him.
Garg rishi quietly went to Gokul. He reached Nandbaba's place at night because if anyone came to know that Devaki's sons were growing up there, then Kans and his men would not leave them. "Devaki's son is from the Yadava clan and I am their Guru, so the ceremony has to be done but nobody should be invited" he thought.
Nandji took Garg Muni to the cow pen. There, in isolation, he chanted benedictory mantras and also got both the children's' naming ceremony done.
For the naming ceremony he looked at Balram and said, "He is Rohini's son that's why his name will be Rohinay.
There is no limit to his strength (BAL) so his customary name will be Balram and the other dark skinned child, his virtues are infinite.
In the Satyug he was incarnated with fair skin, Treta yug with reddish skin and now he is born with dark skin so he is named Krishna. He will attract the world with his beautiful face and smile, so the name Krishna is proper." Saying this Garg Muni quietly went back to Mathura at night.
He never uttered a word about Nand's children in Kans's assembly.He was a devotee of Krishna and he knew that Krishna is the almighty, so he met his God also and at the same time lived up to his duty of a family priest. Continuously praising Lord Krishna and meditating on his name he left for his heavenly abode.