When Mandodari came to know that Shri Ram had arrived in Lanka with his entire sena (army) in Lanka, she was very frightened. She went to Ravan and described Ram's fight. She tried to convince Ravan to give Sita back to Ram and seek refuge with him. "He will definitely forgive you and grant you freedom from his fury."
Ravan exclaimed, "You are perhaps not aware of my powers! I lifted the entire Kailash Parvat (mountain called Kailash)! All gods and digpals are at my mercy, and Rama is in any case weakened at being parted from his wife. Men and monkeys serve as our food. How can we be frightened by them?" Mandodari was thus silenced. Yet at nights Ravan sent his spies Shuk and Saran to the camp of Ram, to assess the number and strength of the enemy.
Both the spies took the form of monkeys and entered Ram's camp in the evening. But the alert vanars (monkeys) recognised them and captured them and threatened to cut off their ears and noses. The spies quickly burst out, "Whoever tries to cut off our nose and ears, may the name of Ram restrain them from doing so." The monkeys took the two spies to Ram. They gave themselves up to Ram so he forgave them and let them go. Ram then climbed on a hill and surveyed Lanka, spread out before them.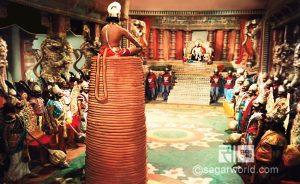 It was evening, and Ravan was relaxing in his pleasure palace, engrossed in entertainment. Sugreeva, who had crept on to the palace grounds, saw that Ravan had let his guard down, and leaped to stand before Ravan. He seized him and wrestled him to the ground, giving him a show of strength, and then returned to Ram, proud of himself. But instead Shri Ram scolded him, and explained to him that one should not act unthinkingly.
Ravan began to plan out his battle strategy. Ram, too was engrossed in arranging his troops for the fight ahead. He consulted with his ministers. As the protocol of warfare demanded, they sent Angad as an envoy, to warn Ravan in his court.When the people of Lanka saw  Angad approaching they were filled with fear. They whispered to each other "The monkey who destroyed Lanka has come back again. What will he do to us now?" They scattered to make way for him.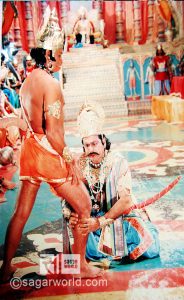 Fearlessly, Angad reached the court of Ravan and meets ravan. He introduced himself as the envoy of Ram. Without preamble, before the court, he requested Ravan return Sita immediately to Ram, and surrender to him. Ravan laughed at Angad. Angad then made a high seat for himself out of his own tail, so that he towered over Ravan on his throne.
He then said, "I am Bali's son Angad; perhaps you remember King Bali, in whose armpit you were imprisoned for six months."
Ravan said nothing for a moment. Then he said, "As you are the son of Bali, I will overlook your rude behavior, but it hardly befits you then to become the envoy of the killer of Bali, your own father."They verbally battled on and on. Finally, when Ravan bluntly refused to agree to the terms of the peace treaty that he had brought with him, Angad said, "Before you decide to do battle with our army, try to move this my foot. If anyone here can move it even by a minute measure of the length of a sesame seed, I will here and now give up the fight for Sita."
Ravan ordered his courtiers to catch Angad by his foot and throw him to the floor. But not even all of them together could make his foot budge at all. Ravan then came forward to attempt it. As he bent to take hold of Angad's foot, Angad whispered to him, "Would it not be better for you to clasp Shri Ram's feet?"
When Ravan heard this, his crowns fell off. Angad instantly picked up four of them and flung them in the direction of Rama. Ravan was humiliated, and silently returned to his seat. Angad challenged Ravan once again, and receiving no response, then left the place, unchallenged by anyone, and returned to the camp. Ravan's mother Kekasi was swift to warn him of the already-unfortunate outcome of his war with Ram, but he ignored her
That night, Mandodari requested Ravan once again to send Sita back to Ram at once or there would be devastation, but drunk with vanity and ego, Ravan paid heed to no one's advice. Angad narrated the course of events at Ravan's court to Ram. All of them, Ram, Lakshman and others, praised  Angad for his bravery, wit and diplomacy, then they continued their preparations for war.