Ravan's son Atikaya was finally killed after a fierce and long battle. When his mother Dhanyamalini heard of her son's death, she cried bitterly. Her sorrow touched an emotional chord in Ravan's heart. He too was saddened and distressed. Then Meghnad talked to him about bravery, and convinced him that he would avenge his brother's death on the battlefield the next day.
In a fierce form, the mighty Meghnad marched into battle. He had crushed the pride of the Devas in heaven, and when Indra had captured Ravan in a fight, it was Meghnad who had freed him. Then he in turn had captured Indra and brought him, bound hand and foot, to the court of Ravan. Since then he had been referred to as Indrajit, "the one who conquered Indra". It was at Brahma's request that Ravan had released Indra. All this was narrated to Ram by Vibheeshan, to demonstrate the strength and valor of Meghnad/Indrajit.
Ram sent Lakshman to face Indrajit. The vanara sena was quite disturbed by Indrajit's arrival. With a roar, Meghnad ties up Ram and Lakshman in a serpentine noose, the Nagpash. Sugreeva and the others were distraught upon seeing this.The gods in heaven protested, and began to move around distraught, in confusion and agitation. Indrajit, filled with pride, returned to the palace.
Then Garuda, the vehicle of Vishnu, was summoned by Hanuman, who told him of Ram's plight and requested him togo and rescue Ram and Lakshman from the Nagpash. As the food of Garuda is snake, he quickly flew to the battlefield and devoured that noose, made up of nagas (snakes). Shri Ram heartily thanked Garuda for his assistance.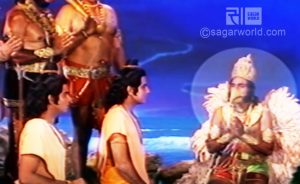 Meanwhile, in Ashoka Vatika, when Sita heard that Ram and Lakshman had been caught in the Nagpash, she was very upset, but soon the news of their release reached her, and she was reassured once again. When Indrajit heard that Ram and Lakshman had been freed from the Nagpash, he was furious. With huge angry steps he marched back to the battlefield and challenged Ram and Lakshman once again, while fighting all the monkeys and bears he met on the way.
Story of The Sanjeevani booti(Medicine)
With Ram's permission, Lakshman met the challenge ,and attacked the brave Indrajit and they fought a mighty duel.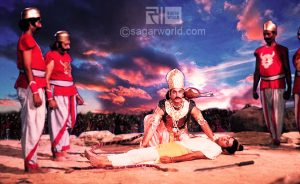 When Indrajit realized he was not able to overpower Lakshman, but instead was getting defeated by him, he unleashed the mighty Shakti weapon on him. Lakshman fell down in a faint.
Indrajit tried to lift the unconscious Lakshman in his arms, but try as he might, he could not do so. Embarrassed, he hurried away. When Hanuman realized that Lakshman had fainted, he picked him up on his shoulders and took him to Shri Ram. When Ram saw Lakshman in that state, he cradled him in his lap and wept bitterly. The entire vanara army was plunged in sorrow and despair.
Vibheeshan consoled Ram and told Hanuman to fetch the physician Sushena from Lanka to treat Lakshman. Hanuman went in the dark of the night to the city of Lanka, and brought back Sushena with him. The vaid (physician) examined the comatose Lakshman, took his pulse, and then told them there was a herb that could revive Lakshman, but it was a herb only to be found on the peak of a mountain in the Himalayas.
But, if that herb, the Sanjeevani booti, was not brought before sunrise, then it was entirely possible that Lakshman would not survive the blow struck by the Shakti weapon that had felled him. With the permission of Ram, Hanuman flew to the Himalayas through the air.
When Ravan learned from his spies that Hanuman had goneoff to fetch the Sanjeevani herb from the Himalayas, he immediately went to the mayavi (magician) Kalnemi, and commanded him to use his magical powers to halt Hanuman on his way to the Himalayas and then kill him with a deceitful plan. Kalnemi went off to obey Ravan's orders."