At the end day of a battle, many great warriors lay dead on the battlefield. On the second day, Ravan himself arrived on the battlefield with his personal army. Ram also came forward to confront Ravan directly, and a mighty battle raged between the two. Rama destroyed Ravan's umbrella and then his chariot, leaving him unarmed and helpless, and forcing him to return on foot to his palace.
Worried and depressed at this turn of events, Ravan ordered his brother Kumbhakarn woken up. The enormous Kumbhakarn was asleep nearby in a gigantic cave. Hundreds of drums were sounded and hundreds of sharp weapons prodded him, struggling to rouse him untimely from his six-month slumber.
Eventually, after much effort, Kumbhakarna was finally roused from his sleep. The rakshasa's (demonic forces) told him the reason they had gone to such trouble. So Kumbhakarna immediately went to Ravan's palace. Ravan related to him all the events that had led up to this battle, from the kidnapping of Sita, to the attack by Rama.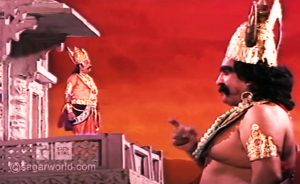 Kumbhakarna said "You made a fatal mistake in taking Sita away. Rama is no ordinary mortal; he is the incarnation of Vishnu. Now, the entire clan of rakshasa's is doomed, but, since you are my elder brother, I will go and face Rama in the battlefield, and give up my life to him fighting for you!"
Kumbhakarna now feasted one last time, drinking up hundreds of pots of liquor and devouring an enormous meal consisting of the meat of countless animals. Then he stood up at last, ready to fight. When Vibheeshan saw Kumbhakarna approaching, he came forward immediately to greet his elder brother. He told him about the insulting behavior of Ravan and how he had then come to Rama for refuge. He advised Kumbhakarna to do the same.
But Kumbhakarna replied "I see nothing but death in this battle before me, so get out of my way and let me fight Rama." He forged ahead ruthlessly, catching in his hands, crushing, and killing hundreds of monkeys and bears. Many of them were able to escape when he tried to devour them, escaping through his nose and ears.
Seeing the swath of destruction being cut by the enormous Kumbhakarna, Ram then turned his undivided attention to him, aiming his bow and arrow. There was a fierce battle between the two. In the end Rama used his amogh arrows (that never miss their mark) to finally kill Kumbhakarn and cut his body in half. Kumbhkarn dies. 
Ravan lamented upon hearing the news of the death of his brave, beloved brother. His sons Atikaya, Narantaka and Devantaka tried to console him. They told him that he should be reassured by their presence. "We will destroy Rama and his entire army in the battlefield!" they assured him, so Ravan allowed them to go into battle.
Atikaya, Narantaka and Devantaka entered the battlefield with bloodcurdling roars and angry bellows. Lakshman came forward to prevent the destruction of their forces. Atikaya challenged Lakshman to single combat. There was a terrible battle but in the end, Narantaka and Devantaka were killed.