Mata Andaal descended on to earth on Tuesday, Shukla chaturthi of Asadh month in the Purvafalgun nakshatra in Shri Villitpur of Tamilnadu state. She was born in the Tulsi garden of Shri Vishnuchitt.
According to traditional belief, her birth time is supposed to be 3004 or 3005 BC but people with unconventional views believe it to be between seven to ninth century similar to Periya Azhwar. Few scholars believe her manifested in this particular form from 716 AD to 731 AD meaning only 15 years.
She is supposed to be the statuesque of universal mother Mata Lakshmi. Mata Lakshmi has divided herself into three idols. Shree Devi being her first form. She resides in to the chest of Lord Vishnu.
Bhu-Devi is the second form who resides in the eyesight of Shrimann Narayan. Neeladevi is the third form. She feels blessed in this form by singing praises about the greatness of Narayan and getting engrossed in the love for God.
Neela Devi had incarnated in the form of Andaal while some believe that Mata Andaal was the incarnation of Bhu-Devi.
It is said that once early morning while Periya Azhwar (Shri Vishnuchitt) was plucking flowers in his garden, he found a newborn girl child among the tulsi plants. Very lovingly he brought her home and nurtured the girl with great love thinking her to be a gift by God and named her "Godai" ( Kodhai).
While growing up with Vishnuchitt, a great devotee of Vishnu, Godai too was mesmerized by the aura of Bhagwan Vishnu. When she started to speak, the only word she could speak was Vishnu. Since childhood, she would sit in the temple and talk with lord for hours, sometimes laughing and sometimes upset with lord she would cry, sometimes would clap and dance with joy.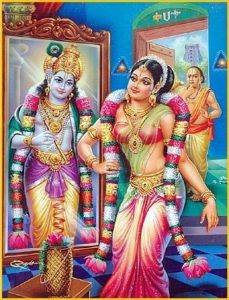 Sometimes when no was around in the temple, she would remove the garland from God's neck, wear it herself and once again make Lord wear it. This was her favourite game in childhood. She did not like playing with children of her age group. When she matured, she started singing songs of Bhagwan. When her father would leave for the temple, she would take care of the garden, pluck flowers for pooja and make garland out of it.
When she grew little older, she started worshipping lord Rangnatha considering him as her husband. Once, her father saw her wearing the Tulsi mala (garland) that he had made for lord.
He was very upset at this gesture. He explained his daughter that it was a great sin to wear Bhagwan's garland. But she asked him as to why be it a sin? She told him that Lord Vishnu resides in her heart and by wearing the garland in a way she was making lord wear it. Saying this she started crying. Periya Azhwar then told her not to repeat it again.
That night Lord Vishnu came in to Periya Azwar's dream and told him, "Why didn't you offer me the tulsi mala today? Engrossed in my love Andaal had worn it; offer me the same tulsi mala tomorrow morning."
Shri Vishnuchitt felt defeated with this achievement of his daughter. He realized that his daughter was no ordinary person. In the morning when he saw the tulsi-mala, it looked much fresher and with more fragrance than the previous day. Without hesitating Shri Periya offered that mala to Bhagwan Vishnu. He understood that his daughter was the greatest devotee of Bhagwan Vishnu and has a place for herself in Bhagwan's heart and started calling her Andaal; meaning "Goddess of pure devotion and beauty.".
When Andaal grew up, Shri Vishnuchitt was worried for her marriage. But Andaal flatly refused to marry anyone else except Shri Rangnatha. Shri Vishnuchitt knew that Shri Rangnath ruled her heart but how was that possible? Worried, Vishnuchitt prayed to Lord Vishnu to get his guidance. The very night, Shri Rangnath came in his dreams and told him, "Oh, my greatest devotee, don't worry, your daughter is Lakshmi. Please bring her to me; I will immediately take her hand in marriage."  Post this, Bhagwaan appeared in Shrirangam Mandir's priest's dreams and told him to take andaal to the temple in a Palki.Next day, poojari came to Periya Azhwar's h marriage procession to Andaal's house and get heouse with all necessary things and palki to take Andaal. When Andaal's father came to know about this, he was overwhelmed. Andaal dressed up beautifully, got ready to go in palki to marry Shri Purshottam and was joined by many people. Drums are beating, conch shells blowing, Brahmins chanting mantras and devotees rejoicing for the union of Andaal with Bhagwaan. Love struck Andaal entered the temple and was thrilled to see Shri Ranganath in all his glory who embraced her getting Andaal engrossed in his love. A light brightens up in the hall and when the light diminishes, Andaal was nowhere to be seen. She had merged with Shri Ranganath.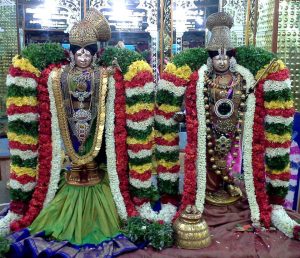 After, the acceptance of Andaal by Shri Rangnath, Shri Periyar became famous as the father-in-law of Shri Rangnath. After returning to Villiputtur he built a temple of Andaal and spent rest of his life worshipping Shri Rangnath and his beloved Andaal Devi.
Even today, the Vaishnav temples of South India, celebrate Andaal's wedding ceremony. As Shri Rangnath married Shri Andaal, she is also known as Rangnayaki.
There are many beautiful creations for the love of God by Shri Andaal. One of them is "Tiruppavai". There are 30 stanzas in this creation wherein she has portrayed herself as Gopi and the stanzas are full of love for lord Krishna. The second creation is "Nachiyar Tirumoli". This has 143 stanzas. Here, Shri Andaal's great love fro Lord Vishnu has been described. Shri Andaal is the first lady poetess and devotee of South India. She is one of the twelve great and worshipped Azhwarons of the Tamil Vaishanavas.