The tenth and the last Guru of Sikhs, Guru Shri Gobind Singhji was born on 22nd December 1666, at Patna in Bihar. His father was the ninth Guru of Sikhs namely Guru Shri Tegbahadurji and mother's name was Gujariji.
The of Guru Gobind Singhji's life is the story of abandonment, sacrifice and valour. Bravery, positivity and a fighting spirit were his in born qualities. His feeling of sacrificing everything for the country could be noticed from one incident wherein in those days Kashmir which was the chief centre of Hindu Pandits had become a centre of atrocities of Aurangzeb. It is said that with the vigour of sword, daily so many Hindus were converted in to Muslims that only their sacred threads when weighed in the evening was of Sava Man (50kgs) weight. When no way was left to protect the Brahmins from these atrocities, they went in refuge of Shri Guru Tegbahadurji and requested him to help. Guru Tegbahadur told them that they would be protected only when a pious soul would sacrifice his head for them. Hearing this, just nine year old Shri Guru Govind said, "Father! Where can we find a soul more pious than you? Why don't you protect them?" Hearing his son's words, Tegbahadur was very pleased and he told the Brahmins to send a message to Aurangzeb that if Guru Tegbahadur Singhji converts into a Muslim, all of them would also convert themselves.
Getting this message, Aurangzeb called for Guru Tegbahadur and made him his captive. He tried too much to convert him to a Muslim but Guru Tegbahadur never became a Muslim. In the end Aurangzeb got him beheaded at Chandni Chowk.
After this incident, bearing all the pain Guru Govind Singh said, "It is a matter of great pride that my father sacrificed his life for securing Hindu religion." This was the valour, patriotism and religiousness of Guru Gobindsinghji. After his father martyred, on 11 November 1675 (12 Agahan Samvat 1732), Shri Guru Gobind Singh was enthroned in Anandpur.
In the Ashaadh month of 1677 (Samvat 1734), Guru Govind was married to Jito Devi ji, daughter of Hairjas Subhikhiya Khatri, resident of Lahore at "Guru Ka Lahor". Shri Guru ji was blessed with four wonderful sons who were named Ajit Singh, Juzar Singh, Zoravar Singh and Fateh Singh.
Guru Saheb had craved for knowledge since childhood. He was educated in all the Shastras (scriptures). He had learnt languages like Hindi, Sanskrit, Persian etc. Personally he was a great scholar and a poet and so Guruji's court was always remained full of poets and scholars. He had got Sanskrit granths (books) translated by 52 poets paying them a huge amount. It was his determination that the Sikh religion should be the largest. Along with education, Guruji expanded arms and army also. To secure Anandpur, he built five forts. The neighbouring King got jealous with Guruji for this but he could not spoil anything of Guruji.
On the first day of Vaishakh month of Samvat 1756 (1699), Guruji established Khalsa Sect. Arranging a meeting of Sikhs in Anandpur and taking out his sword, Guruji told his followers, "Who his ready to give away his head to me?" No one came forward at his first call but at the third call, one of his followers named Daya Ram (Bhai Daya Singh) came forward and offered his head to his guru. Guruji took him inside the tent and when he came back his sword was stained with blood.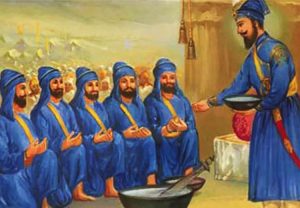 Once again Guruji asked his followers for their head. One more follower came forward. This way five followers came forward at his calling. Guru, with his blood stained sword went inside with the fifth person but when came back, all the five people came out with him in a changed dress. Guru named them Panj Pyare and announcing them as the first Khalsa Sikhs, attributed them the title of "Sikh".
Later, Guru himself became a Khalsa also got the title of "Sikh". Since that day, Guru Govind who was known as Govind Rai came to be known as Guru Gobind Singh and he gave a slogan, "Wahe Guruji Ka Khalsa, Wahe Guruji ki fatah". Later, imbibed with enthusiasm, 25 people, then 125 and eventually thousands pledged to "Khalsa" and became Sikhs.
With the increasing strength of Guru Gobind Singh, the King of Shivalik region was threatened and attacked Guruji to suppress him but was defeated very badly. The King went on attacking and every time when Guruji could not be suppressed, he sent a message to Aurangzeb. Aurangzeb sent army of lakhs of soldiers and sent an order to the entire Kings of Punjab region to attack Anandpur all together at once and capture Guru Gobind and bring him in the royal court.
After this, a fierce battle was fought but when they were on the verge of losing, the joint army besieged them. Approximately for almost a year the joint army besieged them. In the end, Aurangzeb swore by Quran that if Guruji left Anandpur, he would not harm him and would let him go without any objection but just as the Guruji stepped out with his army, Mughal army broke their oath and attacked Guruji and harmed him quite a lot.
Many of the granths written by poets passed away in the river Sirsa while crossing over. During this, Gurumata and both the younger sons found themselves lost and moved towards Sarhind where the King punished both the sons for not adopting the Muslim religion and got a wall constructed around them. Guruji himself, along with 4 disciples and two sons was besieged in Chamkaur and both of them lost their lives. From here, fighting bravely with the Royal army, Guruji escaped by hiding himself from the enemy. Then, Guruji, along with his companions, wandered from one secure place to another and simultaneously kept working for the group. In his last days, Aurangzeb repented for what he had done and wanted to meet Guruji but before he could meet, he died.
After the death of Aurangzeb, Guruji supported Bahadurshah to become a King because he was never prejudiced towards Non Muslim and promised them great honour and freedom. Due to this, relation between Guruji and Bahadurshah were good but Nawaab of Sarhind could not digest this as he thought it was against his favour and so he always tried to instigate Badshah against Guruji. He planned a conspiracy and sent two Pathans to kill Guruji. These Pathans cunningly became Guruji's disciples and while serving him, waited for a chance to kill him.
One day, in the evening, seeing Guruji lying on his bed and all alone they attacked him with Jamdhar( sword). But before they could attack once again, Guruji very promptly got up and killed them with his sword. His disciples killed the other Pathan. They treated Guruji's wound. The wound was started healing after fifteen sixteen days but one day while pulling the string of the bow presented by Bahadurshah, the stitches opened up.
Now with his divine sight, Guruji understood that his time to go was nearing. So on 7th October 1708, on Thursday, Guruji wore the army uniform and taking his arms in his hands called for a meeting. In the meeting, he announced, "No one will be a Sikh Guru after me. Only Guru Bani Granth Sahib will be the Guru".
It is said that he bowed to Granth Sahib. This way, establishing Guru Granth sahib as Guru, Guruji left this world. That time Guruji was 42 years 9 months and 15 days old.
Apart from being a strong priest, a warrior, a powerful leader, Guru Gobind was an impressive poet. He had written many books which got destroyed while leaving Anandpur but whatever has been saved, is been compiled in to a book named Shri Dasham Granth.