(Other names: Jamuna, Yami, Jamna, Jumna)
YamRaj, the deity of death, had a sister named Yami. Yami's mother was Sanghya (daughter of Vishwakarma) and father was Lord Surya (Sun). According to the ancient stories, Sangna could not bear the lustre of SuryaDev (Sun god) and so she closed her eyes.
At this, Suryadev got angry and cursed her due to which Sanghya's son Yama become the deity of death. Sanghya, tried to please her husband Suryadev by looking captivating, but this form did not attract Suryadev, and he cursed her again that she will have a daughter named Yami who will be very fickle and because of this fickle nature she will not get a place in heaven.
She will flow with fickleness on the earth as a river named Yamuna. Since then, Yamuna is flowing as a river. Yamuna is also known as Krishna and Kalindi.
In spite of flowing as a mere river on the earth because Yamuna was born into a family of Devas (deities), a holy faith and glory is united with her.
The history says that, Yamuna is the consort of Lord Shri Krishna. Gokul, the divine abode of the Lord is the home of Yamuna. It is that, the river first went round Shri Krishna before descending down to earth as per the order of her Lord.
In the Dwapar age (there are four Yugas according to Hindu mythology- Satyuga, Treta Yuga, Dwapar Yuga and Kali Yuga) Lord Krishna's childhood was spent at Gokul on the banks of the River Yamuna. It was Yamuna's good fortune that she could hear the sound of flute loved by all ears played by Shri Krishna.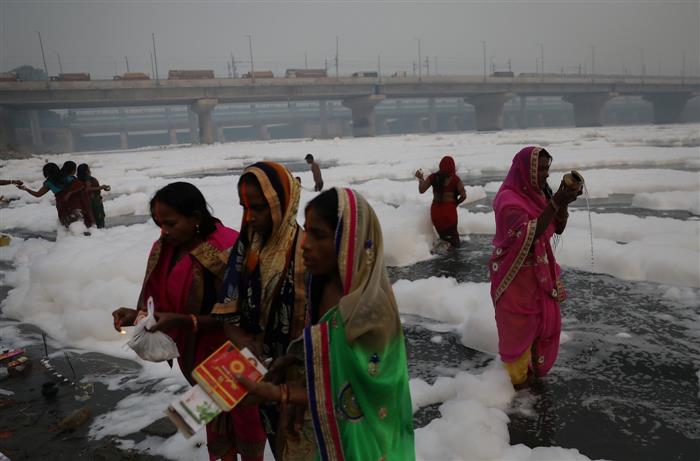 River Yamuna came to be called as "Kalindi" as she touched the peak of Kalind. Then she descended down the hills and reached the plains at Khandav Van which has been developed as Delhi city now.
Yamuna had longed to see almighty Lord Krishna as her husband. Hence taking the guise of an extremely pretty woman, she began severe penance in Khandav Van.
Lord Surya, Yamuna's father, built an under water palace there for her to tale rest. It is believed that she still resides there.
Simply by bathing in the Yamuna, the devotees attain the association of Lord Krishna. A person who bathes there attains the result of visiting all holy places.
It is very sad to know that the holy river Yamuna is one of the most polluted rivers in the world, especially around New Delhi, the capital of India, which dumps about 57% of its waste into the river. Though numerous attempts have been made to clean it, the efforts have proven to be futile