(Other names: Rukmini)
Bhishmak, King of Vidarbha had five sons and a daughter named Rukmani. The eldest son's name was Rukmi. Rukmi was very ambitious. His skin colour was golden appropriate to his name. To become rich, he made friends with Shishupal so that through him he can reach to valorous Magadh king Jarasandh.
Slowly and gradually Rukmani grew up to a lady. She had heard a lot about Lord Krishna's beauty, virtue, strength and richness. Rukmani was also very beautiful – People use to compare her with Lakshmiji whenever they see her. She was also virtuous.
She was intelligent, generous and beautiful. When she heard about Krishna, she started loving him and imagined him to be her husband.
But her brother Rukmi always used to be with Shishupal and wanted her to marry him. He forced his father and convinced him to get Rukmani married to Shishupal and the marriage was fixed.
Rukmani was very sad as her wish was not fulfilled. As the day of the marriage came, Shishupal along with Jarasandh and few others came to the city to get her married. Rukmani caught hold of a faithful Brahmin and sent a letter to Krishna with him.
She had written in the letter "Lotus Eyed, I have accepted you as my husband in my minds. A lion's share is being taken away by the fox.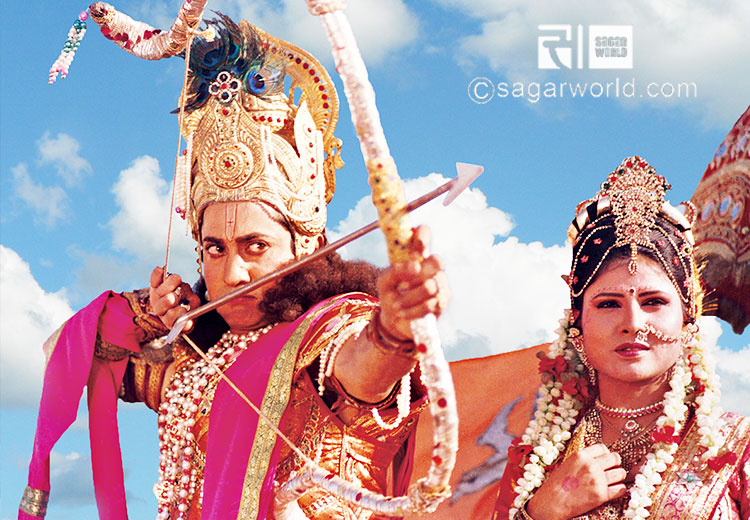 Before the marriage, according to the custom, we will be going to the temple, that time I will come out of the guarded area and at that time you will have to take me, if you will not take me away, I will stop eating and drinking and give away my life and you will be responsible for that. "
Krishna saw that the marriage date was day after. He asked his charioteer Daruk to take him to Vidarbha. When Balram saw that Krishna is going alone, he took the army along with him and went behind Krishna.
Just as Rukmani finished her pooja at Kuldevi Bhagwati's temple, Krishna picked her up, made her sit on the chariot and took her away in front of Jarasandh and Shishupal.
Rukmi tried to follow them but Krishna caught hold of him and tied him at the back of the chariot and said, "Brother is needed when sister is getting married" (referring to a ritual that in marriage ceremony where the brother is needed).
On seeing Rukmani's tearful eyes, he did not kill Rukmi. Balram's army made Rukmi's army run away.
Rukmani was like Laxmi to Krishna, just as she is for Vishnu in Vaikunth lok .She lived in Dwarka as a shadow of Krishna.