Mandodari made a final appeal to Ravana that night to save the clan by surrendering to Rama and seeking his mercy. "He is the incarnation of the Preserver of the Universe. He is all-powerful", she said. Ravana dismissed her words and instead went to the Mahakaal (God of time) temple to pray for strength.
When Indra, the king of the Devas, saw that Rama was fighting on foot in the battlefield, he sent his chariot and charioteer at once to Shri Rama, and requested that Rama ascend the chariot, in order to more swiftly kill Ravana and help the Devas. Out of respect for the Devas, Rama accepted the gift of the chariot.

Ravana now used various mayavi, mysterious and magical devices, to distract Rama. But Rama rendered all his tricks useless. He reduced to naught all the energy and power of Ravana, and in the end, with the help of the Brahmastra (weapon of Brahma), he finally killed Ravana.
At the end of theRam Ravan battle, The Devas in heaven rejoiced and blew trumpets and sounded kettledrums to celebrate the end of the rakshasas who had terrorized them for so long. They showered flowers on earth. The gandharvas and apsaras,(celestial musicians and dancers) sang and danced in celebration.
Meanwhile, Vibheeshan mourned the death of his brother, and Mandodari wept inconsolably after the end of the Ram Ravan battle. Vibheeshan then performed all the rites and rituals for the funeral ceremony of his elder brother. Lakshmana went to the palace of Lanka to attend the coronation of Vibheeshan as the king of Lanka.
With the permission of Rama, Vibheeshan then arranged for Hanuman and other warriors to escort Sita to the camp where Rama awaited. The vanaras were anxious to get a glimpse of Sita. Respecting their sentiments, Rama allowed all of them to gaze at Sita.
Story of Agnipariksha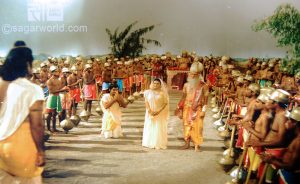 Then,in the presence of all the army, Rama asked Sita to proveher purity with an ordeal by fire. Sita underwent an Agni pariksha (proof by fire) and came through entirely unscathed.

By this means, Sita proved her pure status.Brahma and Indra, along with all the Devas, came to thank Rama for killing Ravana, and sang praises of Rama's greatness. Dashratha also came down from heaven and greeted Rama, saying that "With my mind clouded by the mortal Maya, I treated you like a son, but now that my earthly ties are severed, I see your true Divine Being, and wish for Your greatest blessing and for paramapad (highest status in the spiritual sense). Rama honored his father's request, and granted him that highest status
Rama returns to Ayodhya and becomes the King
Rama now told Vibheeshan that there was just one more day remaining of their 14years of exile."If I do not reach Ayodhya in that time, Bharat has threatened to end his life. So please arrange for the Pushpak Vimana (flying chariot) to takeus back there at once." Shri Rama invited Vibheeshan,Sugreeva,Hanuman, Jambvant, Angad and the entire army to board the aerial chariot and then he himself climbed on, accompanied by Lakshman and Sita.
On theway, he showed Sita, from the sky, the locationofthe Rishyamukha Mountain, Dandakavan, and other significant places, until they reached the ashram of Bhardwaj Rishi. He met Nishadraj Guha at Shrngaverapura. There,Sita offered a prayer ceremony to Ganga.
Hanuman flew ahead to Ayodhya to inform Bharat of their imminent arrival. Bharat was there, waiting anxiously for Rama. Shortly thereafter, the Pushpak Viman reached Nandigram.

Rama bowed to Guru Vashishtha first, and touched his feet. Then he greetedthe three mothers with respect and affection. Then he embraced Bharat and Shatrughna. Bharat then formally returned Rama's charanpaduka (sandals) to him.
Now using his yogic powers,Rama assumed multiple forms so that he could individually greet all the people who had gathered to welcome him.For Kaikeyi, he had a special respectful greeting, and she blessed him.
With great pomp, pageant, and fanfare, the coronation of Shri Rama was celebrated in Ayodhya.The rule of Rama ( Rama Rajiya) brought about peace, prosperity, and happiness, not only in Ayodhya, but also over the entire earth for as long as he lived.