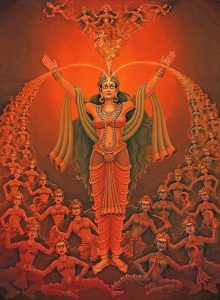 Parvati, The consort of Hindu God Shiva, enraged at the killing of her son, Ganesha
One day, Goddess Parvati was at her palace in Kailash preparing for a bath. As she didn't want to be disturbed, she told Nandi, her husband Shiva's Bull, to guard the door and let no one come in. Nandi faithfully took his post, intending to carry out Parvati's wishes. But, when Lord Shiva came there, he forcefully went inside. Parvati was angry at this slight, but even more than this, at the fact that she had no one as loyal to herself as Nandi was to Shiva. So, taking the turmeric paste (for bathing) from her body and breathing life into it, she created Ganesha, declaring him to be her own loyal son. She again went to bathe, but this time posted Ganesha on guard duty at the door.
In due course, Shiva came, only to find this strange boy telling him he couldn't enter Goddess Parvati's chamber. Furious, Shiva ordered his army to destroy the boy, but they all failed. This surprised Shiva. Seeing that this was no ordinary boy, the usually peaceful Shiva decided he would have to fight him, and in his divine fury severed Ganesha's head, killing him instantly.
When Goddess Parvati came to know of this, she was so enraged that she decided to destroy all of creation. At her call, several ferocious multi-armed forms, the yoginis, arose from her body and threatened annihilation. Lord Brahma, being the creator, naturally had his concerns, and pleaded that she reconsider her drastic plan. She said she would, but only if two conditions were met: one, that Ganesha would be brought back to life, and two, that he would be forever worshipped before all the other gods.
Shiva, having cooled down by this time, and realizing his mistake, agreed to Parvati's conditions. He asked Lord Vishnu to bring the head of the first creature he crosses that is laying with its head facing North. Vishnu, soon returned with the head of a strong and powerful elephant(the elephant was the divine Airavat, the mount of Lord Indra, who was cursed), which Shiva placed onto Ganesha's body. Breathing new life into him, he declared Ganesha to be his own son as well and gave him the status of being foremost among the gods, and leader of all the ganas (classes of beings), Ganapati.
The Artist – Pieter Weltevrede
Pieter Weltevrede- is a Master "Sacred-Artist" based out of the Nederlands. After a many years of guidance, under his guru Late Harish Johari a successful author, a gifted painter and sculptor, a lifetime scholar, an inspiring teacher, a splendid cook, an ayurvedic massage miracle, etc., Pieter embarked on his own journey amalgamating ancient Indian knowledge with his own western sensibilities evolving an art form that appeals to todays international audience. He has been practising his art form from the last 40 years now.
His original paintings are in water colours on silk with a wash-technique that gives them a very three-dimensional feel. The complexity and detail in his works are a super-human endeavour as he continues to live a mundane life travelling between the Western World and India.
Printed on coated matt paper by inkjet printer, 
Click Here to visit our Shop Site.