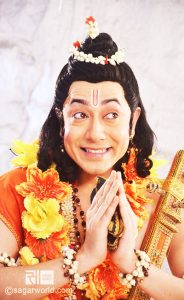 Actor RJ Mantra playing the lead role of Narad in Narayan Narayan  I see a surge inreaders to my blog especially from the United States of America. How much ever one may love to hate USA, there are some very great things about that nation.
The friendliness of the people, the beautiful cities that proudly exhibit the technological progress of mankind, the melting pot of cultures and the larger than "across the Atlantic" geography, I miss my trips there. I feel great that people from the most cutting edge and diverse nation in the world read my writings. Thank you to readers from across the world that keep coming back again and again literally forcing my lazy self to sit with my laptop and think about what to write about next.
It has been over two months since the telecast on 6th of April of a new television series produced by me in the Hindi Language called "Narayan Narayan" on "Big Magic" channel. The show, which airs half hour episodes five times a week, is a bold attempt at telling the mythological stories of India in lighthearted manner. The ancient stories of India naturally lend themselves to humor, fun and adventure.
They have bold sexual content for example when Vishnu adorns the "mohini" roop, a beautiful lady apsara (an angelic female being proficient in the arts especially dancing and singing), and Lord Shiva lusts after her form not realizing that it is actually Vishnu. Shiva not able to control himself lets out some sexual fluid and they bear a son called Ayappa (Hariharan puthiran). This form of Half-Shiva and Half-Vishnu is worshipped in certain places in India.
These stories were never structured to be serious, moralistic commandments rather entertaining, relatable situations of gods acting like ordinary people that could serve as shining lampposts shedding light on various paths at crucial crossroads in the complicated maze called life.
The drunkenness of youth makes us reckless in our decision making process when we are younger. When we are older our bitterness of experience makes us less adventurous and opportunities pass us by. People who are never able to arrive at decisions easily may appear to be confused but are probably some of the most intelligent people in the world. It is never easy to arrive at a decision even the smallest of them.
The real situations that are bought out by the stories help us better decide between right and wrong, instead of rules and commandments which are general in nature. Right and Wrong are situation specific, subject to the intention of the doer, dependent on the mental state of minds of the people involved, back stories come into play etc. so in a story form we see more clearly the entire situation, the state of minds and natures of the people involved and hence how they finally reached their decision.
Before I divert again from the main topic, "Narayan Narayan" is the call of one of India's greatest saints called Narad or Narad Muni. Narayan is another name for Lord Vishnu, the most diverse and powerful god in the Hindu pantheon. Narad who is actually more of a divine saint rather than an earthly one is Vishnu's greatest devotee.
While epitomizing people, gods and natural phenomena in the Bhagwata Gita, Krishna says amongst the celestial sages, "I am Narad", thereby giving Narad utmost importance amongst all saints that exist in Hinduism. Amongst the 11 sons born from the mind of Lord Brahma, the creator of the world, Narad rebelled against norms set down by his father and refused to pro-create.
Brahma saw Narad as a wasted offspring who would not serve his natural duty of keeping the world going through procreation because if everyone stopped producing off springs the world would end. Father and son have a strained relationship ever since.
Narad had his own trials and tribunals spanning many hundreds of years and several lifetimes before he was reinstated in the heavens as a divine messenger of the gods who could travel at the speed of light to any of the three worlds. Like the vedic planet mercury he has a natural ability to communicate and hence he became the link between all the gods, demi-gods, demons and the humans, making sure always that incorrect communication is not creating misunderstandings between the various hierarchies and hence imbalance.
An entire position created in the heavens making sure that correct messages are reaching right people at the right time that's the kind of importance given to communication in the Indian mythology!! This journalistic nature of Narad makes him curious, child-like and prone to gossip. That makes Narad a very a funny and comical saint in his demeanor.
The gods have a love-hate relationship with him. He could be perceived as manipulative by the demons. The female gods wait patiently for his return and pamper him in exchange of his little tit-bits of gossip about what is going on all over the vast universe. He is friends with all and enemies with none. A very loved character, Narad seemed to be the most apt divine being amongst the 33 crore/koti (330 million) gods and goddesses that exist in the Hindu pantheon to attempt a light-hearted, comedy show with.