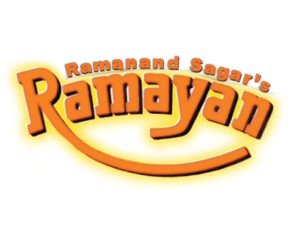 "………From time immemorial the Great epic Ramayana and its teachings illumined the path of human race. It is not a dead literature of long ago; it has influenced and moulded human life for thousands of years and is still a living force today in the depths of Indian consciousness.
The Ramayana enshrines ideals that are ageless, teaches lessons that are timeless. Tells stories that are enduring. Embodying, immortal truths that have withstood the test of time…….."
"……..Ramanand Sagar's epic TV serial Ramayan which blazed new trails all over the world has a unique distinction of achieving something which prophets, scholars, great thinkers, religious leaders, social reformers, and even politicians could not achieve in centuries.
The message of Ramayan cut across the barriers of caste, creed, religion, language and political boundaries. The euphoria that Ramayan created which was documented by the media during its telecast is itself a legend.
After telecasting of Ramayan
The block buster TV serial the Ramayan transcended the barriers of time and the boundaries of geography to influence and inspire people of vastly different cultures, prodding and promoting them along the path of truth, righteousness, peace, love and sacrifice.When Ramayan was telecast, life in cities, towns and villages across India came to a virtual standstill. Conches were blown in celebrations and incense sticks burned atop of TV sets. Promptly at 9:30 a.m. almost every household settled down to watch the greatest epic serial Ramayan, the greatest hit in Indian Television History………."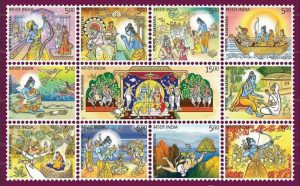 ………." A set of 11 stamps were issued by India Post on 22.09.2017 depicting the story of Ramayan. These stamps are on epic combinations of heritage and philately and a treasure for avid stamp collectors. The sheet comprises of 11 stamps and creatively communicates the story of Ramayan. The first stamp features 'Sita Swayamvar' followed by stamps of King Dashrath and Kaikey's 3 vachan / Ram, Sita, Lakshman leaving Ayodhya and further significant instances. On September 2017 Prime Minister Narendra Modi released the Ramayan stamps mentioning "…this is the first of its kindstamp which depicts different aspects of Shri Ram life…."
Artists dressed as Hindu Gods seen at the launch of tourist train "Ramayana Express" at Safdarjung railway station, in New Delhi, on Wednesday, November 14, 2018. The travellers sought the blessings of "Hanuman, Sita and Ram".
The Shri Ramayana Express, a special tourist train to run on the Ramayana circuit to cover major spots related to the Hindu epic. The train will complete its journey till Rameswaram in Tamil Nadu, in 16 days covering all important destinations associated with the life of Lord Ram. In India, after leaving Delhi, Shri Ramayana Express will make its first stop in Ayodhya followed by Hanuman Garhi Ramkot and Kanak Bhawan temple. The train will then cover the important destinations of Ramayana circuit such as Nandigram, Sitamarhi, Janakpur, Varanasi, Prayag, Shringverpur, Chitrakoot, Nasik, Hampi and Rameshwaram.