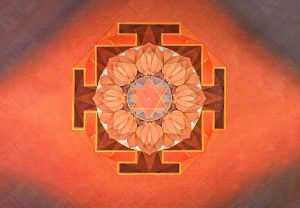 Rahu Mandala Painting – Invoke Lunar Node
According to Hindu astrology, Rahu is a "shadow planet" or "Chaya Graha." Where the Moon's orbit meets with the Earth's orbit around the Sun, it is not a real planet but a mathematical point in the sky. Rahu is the head of a demon who allegedly swallowed the Sun and Moon, resulting in eclipses, according to Hindu mythology.
Rahu is a powerful malefic planet in astrology that is linked to sexual pleasure, material desires, and addiction. It is considered to have a significant impact on one's social standing and career, and it can lead to unexpected success and notoriety. If improperly positioned in one's horoscope, it can also result in concerns with authority figures, legal problems, and health issues.
Rahu is thought to be at its best and worst positions in Taurus and Scorpio, respectively, and in Sagittarius and Pisces.
Some people take steps to appease Rahu, such as presenting sesame oil to the Sun, keeping fasts, and engaging in Rahu Japa (recitation of a mantra), in order to lessen the planet's negative impacts.
The lunar nodes, often referred to as Rahu and Ketu, are two locations in space where the Moon's orbit and the Earth's orbit around the Sun collide.
Rahu and Ketu are frequently shown in art and mythology and are two celestial bodies in Hindu astrology that are thought to be strong and possibly harmful. A traditional Indian picture called a Rahu mandala shows Rahu, the North Lunar Node.
Rahu is frequently depicted in these artworks as a violent and strong deity with numerous heads and arms brandishing weapons while being surrounded by demons.
These artworks frequently serve to request Rahu's blessings and protection as well as to fight off any unfavourable effects related to the planet.
Making Rahu mandalas and meditating on them are practises that are claimed to help purify the mind, guard against harmful influences and energies, and bring benefits of riches, success, and power.
Some people also make a mandala and offer prayers, flowers, and other sacrifices to the deity as part of a formal worship called Rahu Puja, which is done to appease Rahu.
In Hindu astrology, there are various ways to invoke Rahu and Ketu, the lunar nodes, for their blessings and protection. Typical techniques include: Japa: One approach to invoke Rahu and Ketu's blessings is by reciting mantras that are related to them. The most popular mantras for Rahu and Ketu are "Om Rang Rahave Namaha" and "Om Kem Ketave Namaha," respectively.
Puja: Offering Rahu and Ketu a puja (ritual devotion) might be a powerful approach to elicit their favours. This can be done by drawing a Rahu or Ketu mandala, making offerings to the god, such as flowers and incense, and reciting mantras. Yantra: Drawing and meditating on a Rahu or Ketu yantra (a geometric design), which invokes the blessings of the Wearing a stone connected to Rahu or Ketu, like hessonite or cat's eye, can aid to evoke their blessings and lessen the planet's unfavourable impacts.
Fasting: Keeping a fast on a day when Rahu or Ketu is moving through a certain sign is another powerful approach to enlist their assistance.
It's crucial to keep in mind that these techniques are based on Hindu astrology and might not work for everyone. Before using any of these techniques, seek advice from an astrologer. 
The Artist – Pieter Weltevrede
Pieter Weltevrede – is a Master "Sacred-Artist" based out of the Nederlands. After a many years of guidance, under his guru Late Harish Johari a successful author, a gifted painter and sculptor, a lifetime scholar, an inspiring teacher, a splendid cook, an ayurvedic massage miracle, etc., Pieter embarked on his own journey amalgamating ancient Indian knowledge with his own western sensibilities evolving an art form that appeals to todays international audience. He has been practising his art form from the last 40 years now.
His original paintings are in water colours on silk with a wash-technique that gives them a very three-dimensional feel. The complexity and detail in his works are a super-human endeavour as he continues to live a mundane life travelling between the Western World and India.
Here, 'Goddess Saraswati' paintings are printed on coated matt paper.
Click Here to visit our Shop Site.