Mahamrityunjaya Mandala Painting – Invoke Lord Rudra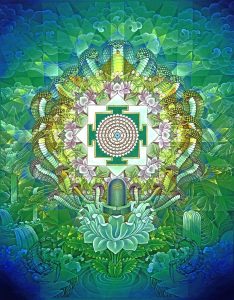 The Lord Rudra, a manifestation of Lord Shiva, is shown in the classic Hindu art form known as Mahamrityunjaya Mandala Painting. The painting is often made on canvas or paper using natural pigments and utilized as a tool for spiritual and meditational practices. The mandala is thought to call upon the blessings of Lord Rudra, who is regarded as the giver of blessings and immortality as well as the destroyer of sorrows. The Mahamrityunjaya Mandala Painting is regarded as a form of sacred art that, in addition to its spiritual importance, is thought to engender serenity and harmony in the spectator.
A Hindu deity known as Mahamrityunjaya is Lord Shiva in his form as Rudra, the god of rebirth and death. He is also referred to as the "Great Death-Conqueror" and is linked to recovery, immortality, and enlightenment. The Mahamrityunjaya Mantra, a potent and historic mantra, is frequently used in spiritual rituals and is thought to attract the blessings of Lord Rudra. The phrase is "Invocation: Om Tryambakam Yajamahe Sugandhim Pushtivardhanam Mrityor Mrukshiya Mamritat Urvarukamiva Bandhanan"
A type of yoga known by the name Mahamrityunjaya is also thought to help people overcome death and bring about physical and spiritual restoration. According to reports, this style of yoga includes asanas (yoga postures), pranayama (breathing techniques), and visualisation.
Lord Rudra is revered for his blessings and protection in Hinduism and is regarded as one of the most potent deities. His adherents also focus on his image in order to connect with him and evoke his blessings. He is the subject of numerous Hindu rites and festivities.
The Hindu deity Lord Shiva and his incarnation as Rudra are represented by the Mahamrityunjaya Mandala, a geometric design. The mandala is frequently employed as a tool for meditation and other spiritual exercises and is thought to aid in enlisting the blessings of Lord Rudra, who is regarded as the giver of blessings and immortality as well as the killer of sorrows. The mandala is frequently made using natural colours on a canvas or piece of paper, and it typically comprises of elaborate patterns and symbols with profound spiritual implications. Additionally, it is used to symbolise both the ultimate aim of spiritual freedom and the cyclical nature of life and death. The mandala is a geometric pattern that is utilised in many temples to decorate the walls and floors revered as a sacred icon.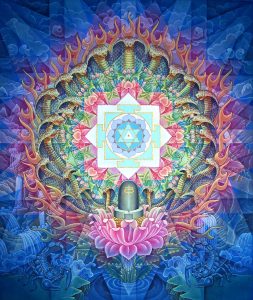 Hindu tradition recognises numerous ways to invoke Lord Rudra, also known as Mahamrityunjaya, who is an avatar of Lord Shiva:
The Mahamrityunjaya Mantra is a potent, age-old mantra that is thought to call forth the blessings of Lord Rudra when chanted. You can chant the mantra as directed by a spiritual instructor, up to 108 times per day.
Homa or Yagna: To evoke the blessings of Lord Rudra, a sacred fire rite known as an homa or yagna is carried out. A certified priest usually conducts this ritual, and gifts to the fire include ghee, fruits, and flowers.
Puja: To request the blessings of Lord Rudra, a puja is a customary Hindu worship ritual. Usually, the puja includes Flowers, fruits, incense, and the chanting of mantras are examples of offerings.
Lord Rudra meditation: Visualizing Lord Rudra in your mind's eye and sensing his presence while doing so is a powerful approach to evoke his blessings.
It's crucial to remember that anyone who wants to invoke his blessings and protection into their lives can engage in these acts; they are not just restricted to particular days or rituals. Before engaging in any spiritual practises, it's crucial to seek the advice of an experienced spiritual teacher.
The Artist – Pieter Weltevrede
Pieter Weltevrede – is a Master "Sacred-Artist" based out of the Nederlands. After a many years of guidance, under his guru Late Harish Johari a successful author, a gifted painter and sculptor, a lifetime scholar, an inspiring teacher, a splendid cook, an ayurvedic massage miracle, etc., Pieter embarked on his own journey amalgamating ancient Indian knowledge with his own western sensibilities evolving an art form that appeals to todays international audience. He has been practising his art form from the last 40 years now.
His original paintings are in water colours on silk with a wash-technique that gives them a very three-dimensional feel. The complexity and detail in his works are a super-human endeavour as he continues to live a mundane life travelling between the Western World and India.
Here, 'Goddess Saraswati' paintings are printed on coated matt paper.
Click Here to visit our Shop Site.