Guru Gorakhnath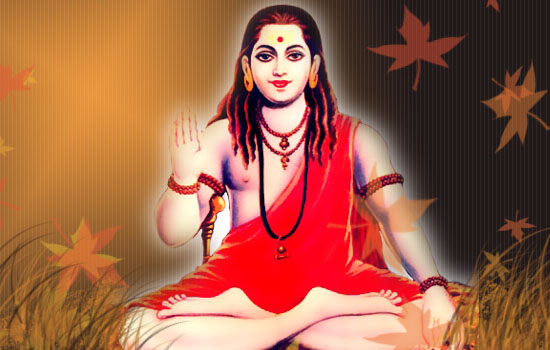 Guru Gorakhnath was the greatest and most famous saint of Naath Sampraday (sect). After Shankaracharya, there was no other Saint as magnanimous and dignified saint like Gorakhnath. His followers are found in each and every corner of India. Before the Bhakti-Andolan the most powerful religious upheaval was Shri Gorakhnath's Yogmarg. All over India, there will not be a single language where one can not find Gorakhnath's stories. According to the traditions of Naath Sampraday, Aadinath is said to be the first Acharya (principal) of Naath Sampraday and it is believed that Aadinath is Lord Shiva himself. Aadinath Bhagavan Shiva initiated Shri Matsyendranath who is also known as Machindranath. Shri Gorakhnath was the disciple of Swami Machindranath.
Guru Gorakhnath was born in the 10th century of Vikram Samvat (the year of the Vikram Era). There are many different opinions regarding his lifetime. Some people believe it to be the 8th century AD, some people believe it to be the 9th century while some also believe it to be 11-12 century AD. Whatever his period of life would be but one thing is sure, he was the greatest religious leader of his time.
There is no specific information about his birthplace. Different scholars have different beliefs about his birthplace. It is mentioned in "Yogi Sampradayavishkriti" that he was born in Chandragiri on the banks of river Godavari. There is a granth (religious book) named "Goraksh Sahastranaam" in the Nepal darbar library in which there is a shloka which states that there is a state named Badava in the South direction whereas a Prasad of Mahamantra, a very intelligent Gorakhnath was born. The great scholars like William Crooks and Giyarsan in their creations have mentioned a tradition where it is said that Shri Gorakhnath was born in Peshawar in Punjab in Satyug, in Gorakhpur in Treta Yug, Hurmuj near Dwarka in Dwapar Yug, and Gorakhmadhi in Kathiawad in Kaliyug. It is believed in Bengal that Gorakhnath was born in Bengal.

Nepal traditions believe that he walked down to Nepal from Punjab. One more opinion is that Guru Gorakhnath had come to Gorakhpur from Tila (Zhelam-Punjab) but Yogis from Nashik believe that he first went to Punjab from Nepal and later went to Nashik. Giyarsan has presumed that Gorakhnath possibly was a native of the Western Himalayas and he diverted Nepal from the influence of others and made it a Shaiv state. As far as Gorakhnath's cast and family is concerned, according to Hajari Prasad Dwivedi, he was definitely born in a Brahmin family and grew up in a Brahmin atmosphere.
There are many granths (books) in the name of Gorakhnath for which it can be only said that Shri Gorakhnath's original books with different views are being altered and expanded and are still going even today. Out of these ,a few are Gorakhnath'screationsn for sure but not all of them are genuine.
From the yog-margiya granths inspired by Gorakhnath, it is obvious that Gorakhnath has given a proper form to Yog-marg. On the principles of Shaiv Darshan, he has regularized the solutions of Kaya-Yog.
The following books in Sanskrit are said to be written by Gorakhnath:
1. Amanask
2. Amaraughshasanam- Iss mein gorakhnath ke siddhant sutraroop mein sankalit hain.
3. Avadhootgita
4. Gorakshkalp
5. Gorakshkaumudi
6. Gorakshgita
7. Goraksh-chikitsa
8. Gorakshpanchay
9. Goraksh Paddhati: This is a collection of two hundred Shlokas. The first hundred are famous in the name "Goraksh Shatak". It is also known as "Goraksh Gyan". The second hundred is known as "Yog-Shashtra".
10. Goraksh Shatak: This seems to be the real creation of Gorakhnath. Two annotations are written on this creation. One is written by Shankar Pandit and the second one is written by Mathuranaath Shukla. This book is also been famous in two other names: (1) Gyan Prakash and (2) Gyan Prakash Shatak
11. Goraksh Shastra
12. Goraksh Sanhita
13. Chaturshityasan
14. Gyanprakash Shatak
15. Gyan Shatak
16. Gyanamrit Yog
17. Nadi-Gyan Pradipika
18. Maharth-Manjari
19. Yogchitamani
20. Yogmartand
21. Yogbeej
22. Yog-Shastra
23. Yogsiddhasan-Paddhati
24. Vivek-Martand
25. Shrinath Sutra
26. Siddh Siddhant-Paddhati
27. Hath-Yog
28. Hath-Sanghita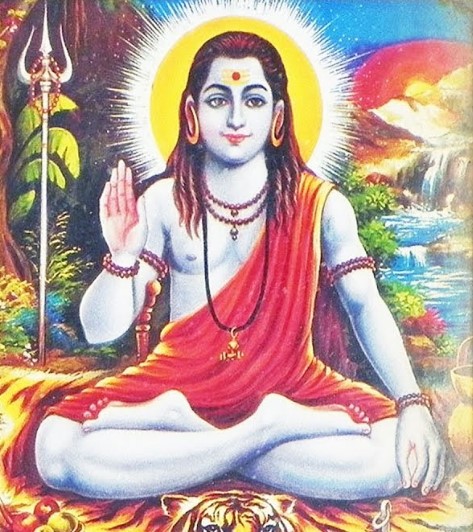 Out of these books, many are not written by Gorakhnath himself. They are written by collecting different teachings of Gorakhnath. Apart from these books, there are forty books available in Hindi that are written by Shri Gorakhnath.
Gorakhnath was a great religious leader of his time. He had great power to confederate. When he was born, that time Indian religious practice was in a bad state. There was less of pure life, pious mannerism, and observing celibacy. He invoked a consciousness for religion in the Indian society and assaulted all wrong activities with great strength. Shri Gorakhnath was a Gyan-Margi saint. He was not in favor of the perplexed gist of devotion. He believed that if Akhand Sachhidanand was real then what was the need of getting impatient in the name of devotion to get him? This way, he was a true follower of Gyan-Marg depending on pure sense. Under his guidance, crores of followers of Naath Sampraday today are moving ahead on Gyan-Marg.
Guru Gorakhnath was visibly a strong glorious form. He was a form of visible God.