Baba Kinaram
In India, there are many followers of different tenets. Everyone has their own opinion, temple, and religious ceremonies. Of these sects, there is the Aghor sect and the followers of this sect are known as Aghori. Aghor sect is a branch of Shaiv (devotee of Shiva) Tantra (a religious treatise supposed to be compiled by Shiva containing mystical formulas for the attainment of supernatural powers). In Vedic literature, the word "Aghor" has been used in many places in reference to Lord Shiva. The devotees of Lord Shiva's Aghor form are known as Aghori. Baba Kinaram was a saint of Aghori sect. He had infinite disciples and he had such an impact on his disciples that today his disciples call themselves "Kinarami".
Baba Kinaram was born in a Kshatriya family in a village named Ramgadh near Varanasi on the fourth day of the dark fortnight of Bhadrapad month in Samvat 1658. His father's name was Akbar Singh and his mother's name was Mansa Devi. Kinaram was the eldest of three brothers. Since childhood he was disinterested and devotee of the lord. At age of five years, he used to collect stones, do pooja with flowers and water, and sing Hare Rama- Hare Rama for hours.
Baba Kinaram was twelve years old when his parents got him married. Three years after his marriage, when the date was fixed for Gauna (a tradition where after child marriage, a girl was brought to her in-law's house after 1, 3, or 5 years. On the previous night, Baba Kinaram asked his mother for milk and rice to eat. His mother got angry as eating milk and rice before going for any good work was considered a bad omen. But Kinaram was adamant and so his mother gave up. She had to serve him milk and rice. The next day, they got a message that Baba Kinaram's wife died. His mother got very angry. She started scolding Kinaram saying that he ate milk and rice in spite of refusing. At this Baba Kinaram replied, "But I had eaten milk and rice after she had died and not before that. Just ask father, she had died last evening only and I had eaten milk and rice last night." Hearing this, everyone in the village was surprised at how Kinaram had an idea about his wife's death.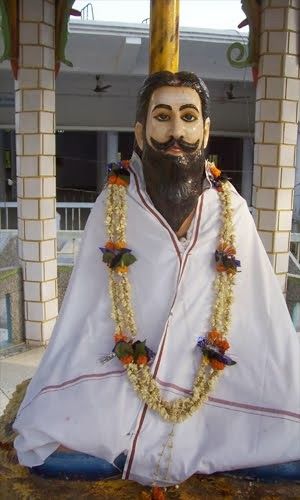 After the death of his first wife, when talks were going on for his second marriage, he flatly refused and left his house, reaching Gazipur wandering here and there. Here, he got consecrated by Saint Shivram of Ramanuj Sect. After consecration, Baba Kinaram started fierce meditation. Whatever time he would get after serving his guru, he would use it for meditation. After some time, Sant Shivram's wife died and he decided to marry once again. Baba Kinaram did not like this and he told his Guru, "It does not suit you to marry once again at this old age. If you marry again, I will go away searching for another Guru." Hearing this, Shivramji said, "Then go away right now." Baba Kinaram left his Guru's ashram and went away.
On the way, near village Nai-deeh, he saw a widow crying. The widow was crying because the landlord's men had taken away her son as she could not pay the rent. Baba went to the landlord along with the old woman and said, "Your money is there where you have made the boy sit." The landlord got the earth dug up and he found a lot of money there. He bowed down to Baba. The old woman became emotional saying, "You saved my son since today he will be in your service." Firstly Baba was not ready but because of the old woman's persistence and considering it to be God's wish; he kept the boy with him. This boy became the first disciple of Baba. Baba named him Bijaram.
After wandering continuously, Baba reached Girnar Mountain. Here, on the Girnar Mountian, Baba had a darshan of Dattatreya Rishi and he taught Yoga to Baba. Here itself, he also got consecrated in Aghor Sect.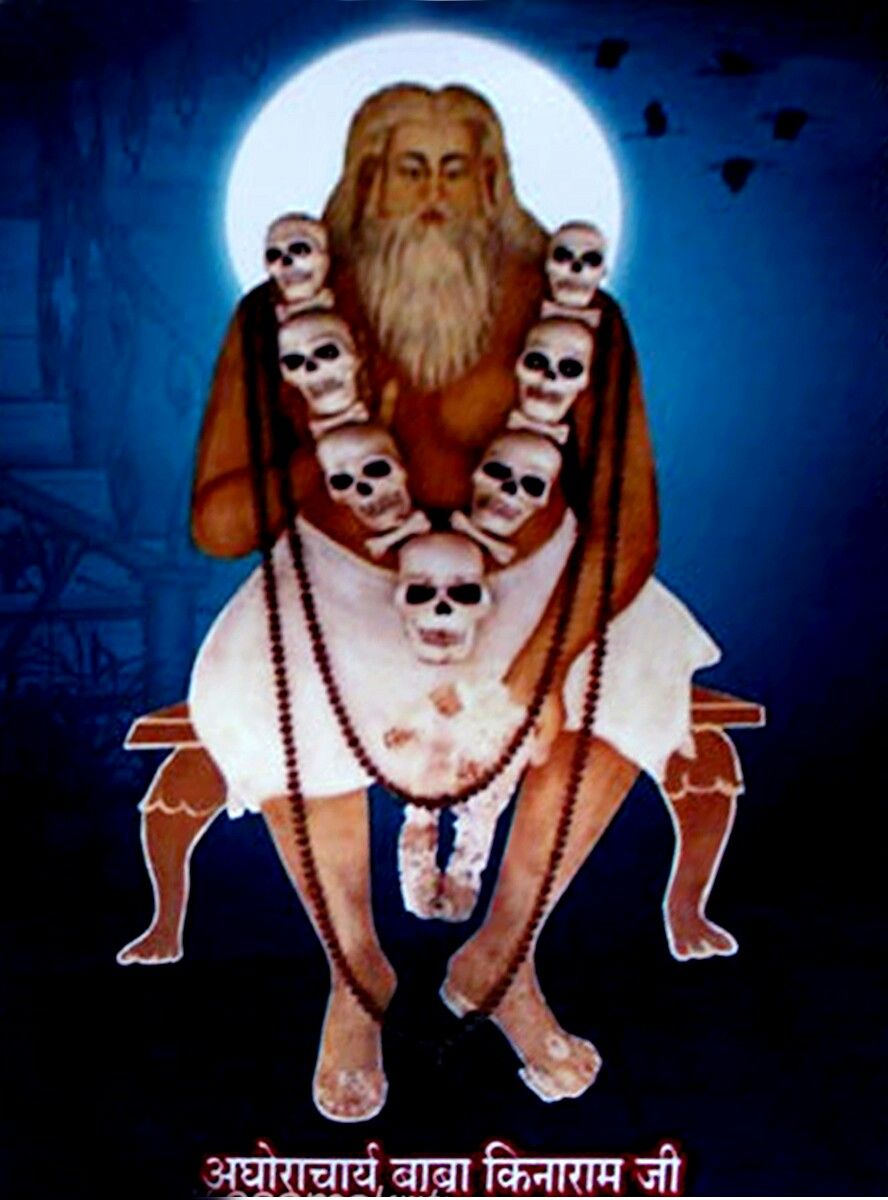 From here, Baba along with his disciple Bijaram, reached Junagadh. This was ruled by a Nawab. Begging was banned here. If anyone was found begging, he was put in jail. Here, Bijaram went begging and he was put in jail. As Bijaram did not return after a long time, with his meditation power, Baba came to know the truth and he also went begging. Even he was caught, sent to jail, and asked to mill on the grinding stone. Here, Baba saw that great Saints were milling there for the offense of begging. He banged the mill with a stick in anger and asked it to start grinding and the mill started grinding. After this, Baba banged each mill with his stick and all of them started grinding. Seeing this, the officers in the jail got scared and ran away. When Nawab came to know about this, even he got scared. He apologized to Baba. Baba told him, "Mendicants and Saints always beg and eat and you put them to jail for this? Now give orders to give two and a half kilogram flour free to them." To keep away from Baba's anger, the Nawab immediately issued orders for the same.
After this, wandering all over India, Baba reached Shaktipeeth of Hingalaj Devi (in present-day Pakistan) where he had a darshan of Mata Hingalaj. From there, Baba moved towards Himalaya and reached Kashi. Here in Kashi, he met Baba Kaluram.
Baba Kaluram was an Aughad Mendicant (one of the sects of Hindu mendicants who are devotees of Shiva and who eat anything and everything). He used to give grams to eat to the skeletons in the crematorium. When Baba Kinaram saw this, he used his spiritual powers and the skeletons stopped coming. Kaluram was a highly spiritualized Saint. To test Baba Kaniram's spiritual power, he told him, "I am very hungry, could you get fresh fish for me to eat?" Kinaram said, "Sure." Then he asked the river Ganga to give him fish. Immediately, a fish came out of river Ganga and fell at his feet. After some time, Kalumal saw a dead body floating on the water of the river Ganga. He said, "Dead body is coming." Kinaramji said, "He is alive." Saying this, he called out to the dead body. The dead body came to the bank and started walking towards Babaji and became his disciple. He was named Ram Jeevan Ram.

Seeing Baba Kinaram's spirituality, Baba Kaluram was satisfied. He gave away his place at Krin-Kund to Kinaram and told him, "I was waiting for a person like you so that an awakened place like this should not remain empty. Now there is no need for you to go anywhere else. You stay back here for contemplation. You will get everything here only." It is said that Baba Kaluram consecrated him. He was the incarnation of Lord Dattatreya. After handing over the seat here to Kinaram he left for a heavenly abode.
In spite of being Aughad, Baba Kinaram was loved by the general public. He was highly spiritual and merciful by heart. It was because of him that Krin-Kund and Aughad Sect became famous. When he went back to his village, seeing him as an Aghori, firstly people hated him but seeing his increasing spiritual powers they started respecting him more than before. In spite of being from Aghor Sect, he always recited the lord's name. Impressed with his power of austerities, King Balwant Singh had fixed one rupee each annually from his 96 villages for the expense of his pooja and till today Kinaram's followers get this.
Baba Kinaram was a philosopher Aughad. He had written many books. His books Ram-Rasal, Ram-Geeta, Ram-Mangal, Gitavali, etc are based on Vaishnav theory. His book "Viveskar" is based on Aghor theory.
In memory of his first guru Sant Shivram, Baba built Vaishanav ashrams at Maruphpur, Naidhi, Parampur, and Mahaurpur. In the memory of Shri Dattatreya and Baba Kaluram, he built Aghori Maths at Kashi (Krin-Kund), Ramgadh, Deval(Gazipur), and Hariharpur (Jaunpur).
In Samvat 1826, Baba went into live interment. Even after his bereavement, many devotees by the grace of his blessings are living life leisurely and with great dignity. Baba is with his devotees even today.