Samantabhadra and his consort Samantabhadri
Legacy
Samantabhadra means the one who is universal worthy. Samantabhadra is the primordial Buddha in Tibetan Buddhism, who give rise to all other Buddhas. He is depicted as blue-skinned, sitting over him is Samantabhadri, his consort and female counterpart. The naked body represents nothingness and formlessness, which is the true representation of Supreme God.
One of the major Bodhisattvas, Samantabhadra is an iconic Bodhisattva and is believed to be associated with Buddhist practice and meditation in Mahayana Buddhism. The term Samantabhadra literally means "Universal Virtue", "Universal Worthy", "He Who is All-Pervadingly Good". Bodhisattva Samantabhadra is sometimes depicted as bodhisattva, who protects all beings who teach Dharma and is known as Fugen in Japan and P'u-hsein in China. In Buddhist tradition, Samantabhadra is portrayed as the one with Shakyamuni Buddha as well as bodhisattva Manjushri and together they form Shakyamuni Trinity. In Nyingma School of Tibetan Buddhism, Samantabhadra is considered as the primordial Buddha. In Vajrayana or Esoteric Buddhism and in most of the schools of Tibetan Buddhism, Samantabhadra is depicted in the form of Buddha rather than Bodhisattva. In some traditions of Tibetan Buddhism, Samantabhadra is worshipped as the primordial Buddha. Samantabhadra is also a key figure in the Āvataṃsaka-sūtra, particularly the last chapter, the Gaṇḍavyūha-sūtra. In the climax of the Gaṇḍavyūha-sūtra, the student Sudhana meets Samantabhadra Bodhisattva, who teaches him that wisdom only exists for the sake of putting it into practice; that it is only good in so far as it benefits all living beings. In the Āvataṃsaka-sūtra, the Buddha states that Samantabhadra Bodhisattva made ten great vows in his path to full Buddhahood.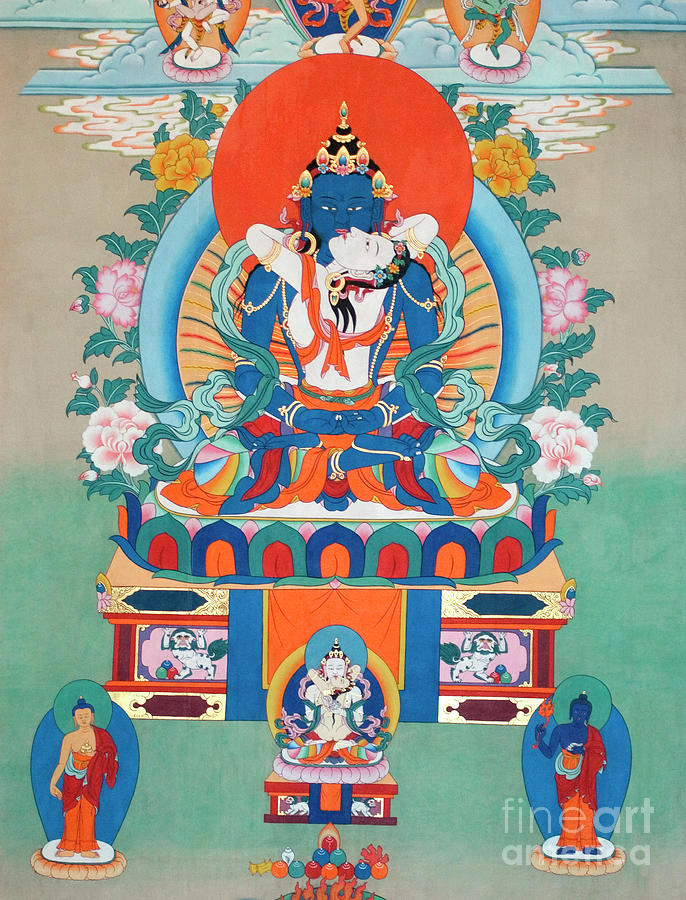 Samantabhadri is a dakini and female Buddha from the Vajrayana Buddhist tradition. She is the consort and female counterpart of Samantabhadra. Samantabhadri is the expression of a concept essentially inexpressible in word or symbol, the ultimate voidness nature of mind. This aspect of the dakini is beyond gender, form or expression.
Benefits of keeping Samantabhadra and Samantabhadri painting in your house
All evil karma made in the past will either be wiped off or retribution created by past serious offences reduced.
Auspicious spirits constantly protect you and you do not have to experience the disasters of plagues, floods, fires, thieves, armed conflict, or imprisonment.
Evil ghosts and other yaksha-ghosts cannot encroach on you; poisonous snakes or man-eating beasts can not harm you.
Ignorant people will grow wiser, unhealthy people will grow healthier and troubled people will feel  happier.
       The Author – Pieter Weltevrede
Pieter Weltevrede – is a Master "Sacred-Artist" based out of the Nederlands. After a many years of guidance, under his guru Late Harish Johari a successful author, a gifted painter and sculptor, a lifetime scholar, an inspiring teacher, a splendid cook, an ayurvedic massage miracle, etc., Pieter embarked on his own journey amalgamating ancient Indian knowledge with his own western sensibilities evolving an art form that appeals to todays international audience. He has been practising his art form from the last 40 years now.
His original paintings are in water colours on silk with a wash-technique that gives them a very three-dimensional feel. The complexity and detail in his works are a super-human endeavour as he continues to live a mundane life travelling between the Western World and India.
Here, 'Samantabhadra – the primordial Buddha – with his consort Samantabhadri' is printed on coated matt paper by inkjet printer, using ultra chrome inks with an off-white paper mounting with golden border, and encased inside a fibre frame with acrylic sheet cover in the front.