AMITABHA BUDDHA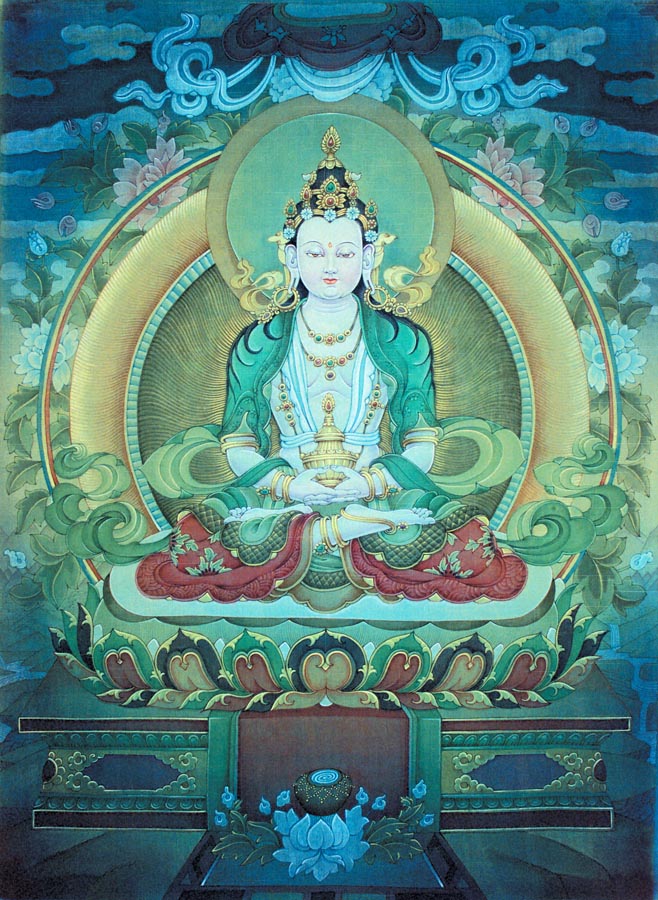 LIFE AND LEGACY
Amitabha means infinite light. Amitabha Buddha is a Buddhist deity of infinite light. Amitabha is the principle Buddha in the Buddhism practiced in East Asia. Amitabha Buddha appears in many mantras in Buddhist practices followed in Tibet, China and Japan.
There are many different Buddhas represented in Buddhist art. Following the historical Buddha Shakyamuni, the next most common buddha form to appear in art is likely Amitabha. There are many texts devoted to him in the Mahayana Sutra.
According to the Mahayana Buddhist sutras, he was a king in the remote period of time. Renouncing his kingdom, he became a monk and was named Dharmakara, which means 'Treasury of Dharma'. Inspired by the teachings of the then Buddha, Lokesvaraja Buddha, who taught him the way to supreme enlightenment many aeons ago, he made forty eight great vows for the saving of the sentient beings. Amitabha's 48 vows are the blueprint for building his Pure Land, where all sentient beings of the 10 directions may easily be reborn and become Buddhas, free from the danger of retrogression.
The Bodhisattva Dharmakara, after five aeons of self-cultivation, finally attained the Supreme Enlightenment and became the Buddha Amitabha. As a bestower of longevity, Amitabha is called Amitayus, or 'Infinite Life'. In China and Japan the two names are often used interchangeably, but in Tibet the two forms are never confounded, and Amitayus is worshiped in a special ceremony for obtaining long life. He is depicted wearing ornaments and a crown and holding the ambrosia vase from which spill the jewels of eternal life. The important iconographic difference between the two forms is that Amitabha has a 'buddha appearance' and Amitayus a 'bodhisattva appearance'.
            KEEPING AMITABHA BUDDHA NEAR YOU
Keeping Amitabha Buddha's painting in home gives long life. Amitabha Buddha shall shed light on you and protect you. You will be happy, good looking, energetic, healthy, and successful.
                                               THE AUTHOR – PIETER WELTEVREDE 
Pieter Weltevrede – is a Master "Sacred-Artist" based out of the Nederlands. After a many years of guidance, under his guru Late Harish Johari a successful author, a gifted painter and sculptor, a lifetime scholar, an inspiring teacher, a splendid cook, an ayurvedic massage miracle, etc., Pieter embarked on his own journey amalgamating ancient Indian knowledge with his own western sensibilities evolving an art form that appeals to todays international audience. He has been practising his art form from the last 40 years now.
His original paintings are in water colours on silk with a wash-technique that gives them a very three-dimensional feel. The complexity and detail in his works are a super-human endeavour as he continues to live a mundane life travelling between the Western World and India.
Amitabha Buddha represented here in traditional Thangka painting. Amitabha Buddha is depicted as sitting with his hands resting one over other displaying a meditation mudra (pose). Here, the Amitabha Buddha is printed on coated matt paper by inkjet printer, using ultra chrome inks with an off-white paper mounting with golden border, and encased inside a fibre frame with acrylic sheet cover in the front.